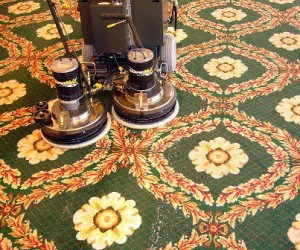 Many advances in carpet cleaning technology and carpet manufacturing have been introduced to the market in recent years. It's not only in rug materials or equipment that showed great improvements but also amazing enhancements in the methods used to clean carpets. These notable developments enabled professional cleaners of today deliver quality rug cleaning results. Low moisture carpet cleaning is one great example of this improvement wherein it allows carpet fibers to quickly dry and restore its natural state in a matter of two hours only or even less.
Low Moisture Carpet Cleaning Benefits
The main goal of using low moisture carpet care is to lessen the amount of moisture that is applied as well as left in the carpeting during and after the procedure; hence making the drying process much faster and even. Due to the quick drying time of this cleaning method, it will help protect rugs and their backing, including the sub floor below them. Moreover, this technique aids in the elimination of possible saturation of the carpet that normally results to harmful contaminants growth beneath the fibers.
Different Types of Low Moisture Carpet Cleaning
Although there are instances wherein drying of carpets in two hours or less can be very challenging due to the environmental and climatic conditions that greatly impact drying times. Other rugs are also heavily soiled or stained which demand the use of extra water and cleaning solutions to successfully remove them. With these issues, various kinds of carpet care methods must be used to achieve the goal of effective low moisture cleaning. Below are some of the procedures that are often applied:
Using this procedure will help agitate the rug that will then loosen surface soiling and stubborn stains. A low rpm floor machine will be used to distribute a specially-formulated liquid detergent onto the carpet. The suspended dirt or grime together with the shampoo and moisture will be extracted from the rug using a wet vacuuming system.  After the carpet gets completely dry, a powerful vacuuming process is done to eradicate any remaining shampoo or soil residues.
This method involves the application of a cleaning product on the rug that later on will be extracted using an absorbent bonnet attached to a low-rpm (rotations per minute) floor machine.  The machine will provide agitation to the carpet to effectively loosen-up and get rid of soiling. During the procedure, a large amount of soil can get accumulated that's why the bonnet may need to be turned over or replaced frequently throughout the cleaning process.  It's recommended that once the carpet dried up, vacuuming must be done to eliminate any remaining chemicals or soiling on the rug's fibers.
Encapsulation cleaning chemicals are applied to the carpet with the use of a low-rpm floor machine or a cylindrical machine that has brushes (instead of pads) to work the solutions well into the carpet.  Once they've been applied on the rug, these encapsulation chemicals will crystallize for about 30 minutes or an hour. The carpets will then undergo vacuuming to remove the crystals together with the soils. What's great about this procedure is that it requires no water at all.
Faster Drying Time Carpet Cleaning Method in Sioux Falls, SD
Using Low Moisture Carpet Cleaning method, equipment and solutions will indeed help to enhance the appearance and longevity of rugs. Yet the best part of utilizing this process is that you no longer have to wait for hours, sometimes days, for the carpet to completely dry to be able to use it again. Contact your local professional cleaners about the compatibility of your residential or commercial rug with the process of low moisture carpet care.