Offers a Complete, Specialized Rug Cleaning Work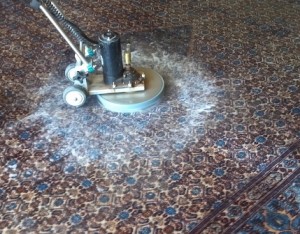 We offer our residential and commercial clients in Sioux Falls, SD a rug cleaning service that will help bring back the like-new appearance of their messy, dull and old rugs. It's been many years that we are delivering the best professional care to hand-made, machine-made, and antique rugs; therefore making us your trusted experts. Every job that we do is sure to be of the finest quality with inexpensive rates and backed with a Satisfaction Guarantee. Our rug cleaning service is a complete, specialized cleaning program that includes restoration and re-fringing works that will help rugs maintain their cleanliness and health for a long period of time.
Our certified technicians are experts when it comes to distinguishing the specific fiber or dye materials of rugs which is very important because this will aid them in knowing what ideal cleaning procedure to use. In addition, our technicians know and understand how to properly apply the cleaning process that will not cause any further harm to the rug's often delicate material.
Handles All Types and Size of Home or Business Rugs
No matter what kind of rug you own, may it be Oriental, Indian, Persian, Chinese, Silk, Wool, we surely know how to handle it and bring back its once again pristine condition. Our skilled and experienced technicians will give your rug a thorough clean using today's portable, modern equipment. Also, due to the delicate nature of rugs, they will require a gentle clean. We understand the sensitive condition of rugs so we'll only use mild solutions, as well as environment-friendly deodorizes that will successfully eradicate stubborn stains ad unpleasant odors yet will not leave behind residues that can damage the rug's material, fiber or color.
We highly recommend that you have your home or business rug professionally cleaned every 12 or 18 months to keep its pristine condition and improve its longevity. After the rug cleaning is completed, you can get our fiber sealant application service wherein we will apply a clear, odorless, and non-toxic coating on the rug's surface to help it resist soiling, spills and stains for up to 24 months.
Reliable and Economical Rug Cleaning Service in Sioux Falls, SD
With our rug cleaning service, there's no need for you to pay for costly rates or send your rugs away for days or weeks just to have them professionally cleaned. Contact us today and schedule your residential or commercial rug cleaning project with us.