Sioux Falls, SD Water and Energy Efficient Carpet Cleaning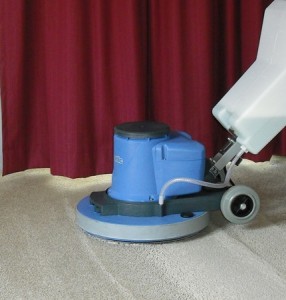 Encapsulation carpet cleaning, a low moisture type of cleaning process, is the method that we use when giving residential and commercial carpets a proper, deep clean.  This cleaning method, also known as Very Low Moisture (VLM) , will help bring back the like-new look of your carpet while leaving it spot free and dry in less than an hour. Compared to other procedure used in professional carpet care, a low moisture carpet cleaning technology is water and energy efficient, has a much faster drying time and uses green cleaning solutions.
Environment-friendly Carpet Care in Sioux Falls, SD
If your carpets are not cleaned with an encapsulation cleaner you are not getting the best. The first step in effectively cleaning any carpet is to counteract sticky soil. The encapsulation chemistry surrounds each soil particle and crystallizes, so the particle can't attract other soil. The encapsulated particles release from the fiber and are easily extracted with normal vacuuming. Since there's no dirt-attracting residue left behind, the carpet stays clean longer. Our encapsulation product is an environmentally friendly cleaner—safe for children and pets.
State-of-the-art Oscillating Carpet Cleaning Machine
Our oscillating machine differs from traditional cleaning equipment in the way it's engineered. The oscillation generates over several hundred random oscillating motions per minute which safely agitates all sides and tops of the carpet fibers. The oscillating motion pulls dirt that is deep in the carpet and also lifts the carpet fiber from a matted state. This oscillation provides the safest and most effective form of carpet and hard floor maintenance available. By using the oscillating machine we don't bring hoses into your home, we don't have to leave the door open, we keep the weather outside.
Fast Drying Carpet Cleaning Method in Sioux Falls, SD
Our drying times are usually 30 minutes to an hour and a half. Using our low-moisture system will lead to improved air quality and a healthier indoor environment. Our unique low-moisture system uses up to 10 times less the amount of water used by other methods. Over-wet carpets will never be an issue with us! Over-wet carpets can cause mold and bacteria growth and stains to re-appear as the carpet dries. Again, our encapsulation product is an environmentally friendly cleaner—safe for children and pets.
Contact us today and have your carpet experience our top-notch and inexpensive encapsulation cleaning procedure. Our goal is to get your carpets as clean and as dry as possible without having you wait for hours.